1. Tougher and faster enemies - not by much, but just enough to make things more interesting. Having that said - careless, ignorant and non-tactical players won't last long. Trading blows in Legend is a really bad idea, especially for the Mage. Think ahead or die. Did i say there are also more enemies?
2. Less health supplies, - and more battle supplies! Now, that does not mean mana! Instead - Legend Farewel Edition provides and encourages you to use more freely the items and spells which the original Hexen kind of restricted: set gas and explosion traps aplenty, counter-attack with repulsion discs, turn enemies into pigs, summon your own Minotaurs - HAVE FUN!! However, the more powerful resources (and mana) are going to be a lot of times hidden - so do explore everything.
3. Secret places: "Legend: Farewell Edition" features old-school Wolf-3D//Heretic-style secret places. These are very handy and they are always indicated somehow. This may be anything between a direct and an intricate clue. Logic and knowledge of the similarly styled games will help to find them all. Some characters will be in trouble without locating these hidden treasures...
4. Weapons: in Legend ALL weapons are useful and all characters are versed in both ranged and melee attacks. However, - some are better at the former, and some at the latter - the goal in making was to avoid boredom that plagued the original. Even the first weapons are quite powerful and have hidden advantages while using no mana. Dual-wield and combination weapons are still a solid feature of the mod, so keep that in mind. Some weapons can handle both ranged and melee surprisingly well.
5. Corvus - is an official character in Legend. There is no Cleric. Corvus has his own weapons and playstyle which is while similar to Cleric - but has two differences: Corvus is a stronger character, and thus is easier to play. His weapons are more powerful, but he cannot use a weapon for healing effects. Cleric is available as a player character via The Cleric mod.
6. Fatalities: there are THREE death animations for every enemy character in Legend, except for bosses; and different weapons provide different effects. Have fun with that one!
7. Extended Levels - Legend: Farewell Edition features extended levels which are to various degrees larger and more interesting. The mechanics in those levels have also been altered: you may need additional keys, or look for artifacts not where you're used to do so, expect different enemies and so on. There are more details on extended levels right here on this page.
8. New enemies: the Serpent Rider - a very dangerous dude: miss a barrage of his fireballs and you're a goner. He attacks in a similar way to an Afrit, but he is 5 times harder to kill and 10 times deadlier.
The Minotaur - our Minotaur doesn't have all the attacks that the well-known boss from Heretic can perform, but don't worry: while this version only uses the arc-fire - it is more than adept at putting you in the grave. Cover and a big stick is mandatory. Then again - you can also use magic :-)
9. The Wendigo, on the other hand - is removed, just as are all traces of ice in the game.
10. Gothic styling - Farewell Edition excels at making Hexen look dark and gothic like no other iteration of the mod. Due to using a new editing software - no more cutting corners on that one.
Finally, we can turn Hexen into the dark adventure that it should have been - in the best traditions inspired by Hexen-2, Deathkings, Witchaven and Blade of Darkness.
11. Deathkings architecture - some of the most beautiful Deathkings architecture designs were re-created in the extended levels as a tribute to that chapter of Hexen. DK has some really bad ass castles, and now we brought the best of into Hexen!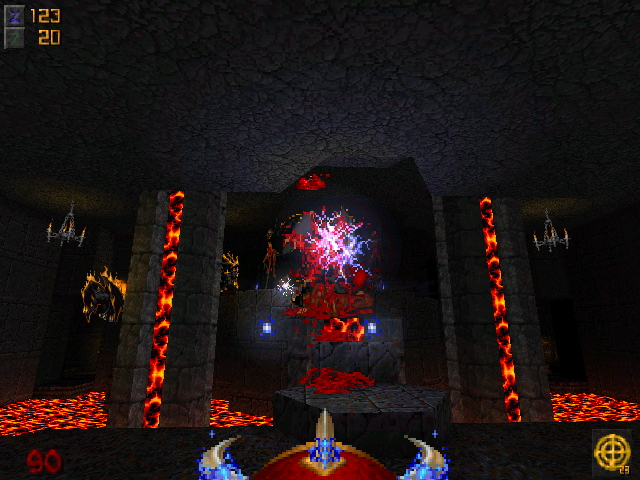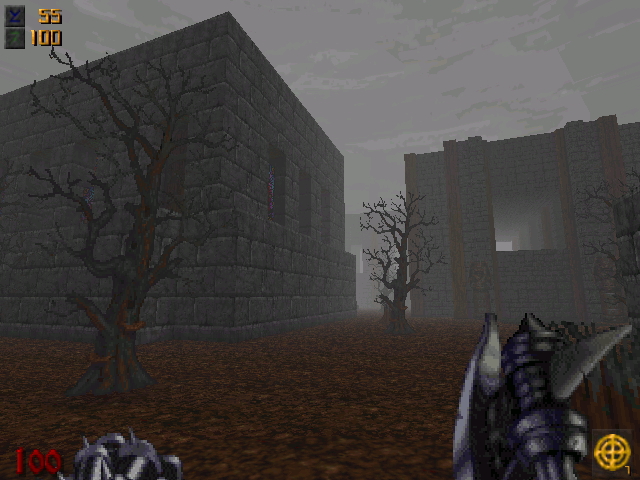 LEVEL EXTENSIONS (click for more info)
HERESIARCH SEMINARY (Monastery)
FORSAKEN OUTPOST
EFFLUVIUM
DUNGEONS
DESOLATE GARDEN
GRAVEYARD
TOMBS of MENELKIR, TRADUCTUS, ZEDEK, KORAX